Meantime, just another Sunday at KTVA, only this time going to pot and potty mouth when reporter Charlo Green, the Anchorage girl who came to the new station from WOWK in West Virginia, took to the mic, in a moment that will go down in broadcast history: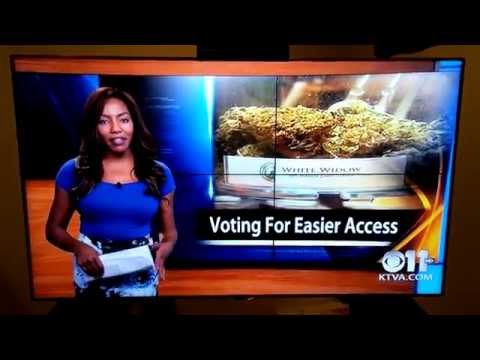 What you missed on this video (and what you can see in others that don't include the infectious laughter) was Green's admission that she owns the Alaska Cannabis Club. Green has done multiple stories on the pot initiative and the anti-pot folks had for a while been complaining about her attitude, complaints which were supposedly brushed off and complaints that will come back and haunt the station manager, particularly when the first FCC complaint gets filed in three…two… one…bong!
The anti-pot folks wasted no time. They sent out a fundraising email two hours after the incident entitled appropriately, "loss of local control."
If you're up at 7 a.m. on Monday, tune into the Dan Fagan and Glen Biegel show. They'll be talking to Brad Keithley about some of the charges leveled at him. Tune in at 95.5 FM, and 1080 AM in Anchorage and 92.5 FM and 1020 AM in the Valley. Or listen on line here.
This entry was posted in